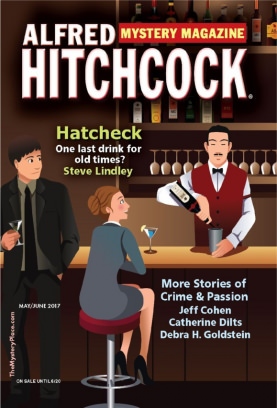 "Money Maker," by Jas. R. Petrin, in Alfred Hitchcock's Mystery Magazine, May/June 2017.
I admit to being a major fan of Leo "Skig" Slorzeny. This is his
fourth appearance
in my weekly best list.
Petrin's protagonist is an aging loanshark in Halifax, Nova Scotia. There is a "demon" eating up his guts - in earlier stories it was an "imp," so I guess it is getting worse - and it will kill him if one of his many enemies don't get around to it first.
In this story Skig has done an unnamed favor for a couple of Maine crooks and they send him the agreed upon fee. Unfortunately, half of it turns out to be counterfeit so Skig sets out to figure out who along the line of shipment shorted him.
He is accompanied by his sidekick, Creepy Culbertson, who fixes cars in the garage that Skig has renovated into living quarters.
"I'm in."
"I thought you had a front-end alighment to do."
"It can wait."
"Won't your customer be wanting his wheels back?"
"Don't see why. He don't even have a driver's license. I'd be doing the world a favor, keeping that boozehound off the road."
Not exactly the dialog of Holmes and Watson. But that is one of the joys of these stories: the tough guy characters sound tough. So does the narrator, describing a crime scene:
Under the chairs a sight the media might describe as "distressing to some viewers."
Another highlight of this story is meeting Saul, Skig's attorney for, I believe, the first time. Here they are having lunch.
"And you went to meet this man so that you could..."
"Take a delivery. A sack of cash."
Saul clucked his tongue. "The kitchen's noisy. I didn't hear that."
"The kitchen's at the other end of the room."
"Yes. They're incredibly clumsy in there."
But the highlight of any Skig story is Skig. People underestimate the aging thug in all sorts of ways.
"There's nothing nice about me. Nothing at all," he says, after doing something nice. No heart of gold here, he insists, merely balancing the books. And that's a subject of importance to any loanshark.