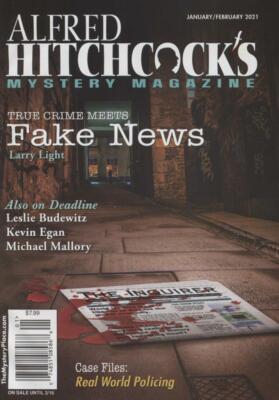 "The Underneath," by Stephen Ross, in Alfred Hitchcock's Mystery Magazine, January/February 2021.

This is the second appearance by my fellow Sleuthsayer, Stephen Ross. It's a quicky, but clever.
William is a seventy-two-year-old retired zookeeper, a bachelor (or widower, depending on which page you believe...oops). One of his few pleasures in life is riding the bus to town on Friday mornings with his neighbor, the charming young Julie.
But one Thursday night William hears her arguing with her husband, Doug. The next day: no Julie on the bus. Hmm...
The suspicious neighbor is a set-up we have read many times but, as usual, what matters is what you do with the set-up. I won't give anything away but in just a few pages William conducts his investigation and makes a very clever plan.