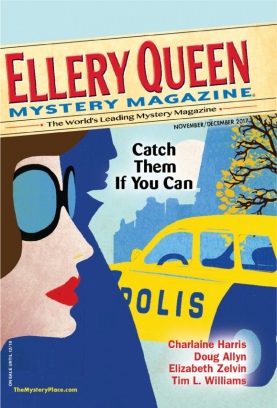 "Precision Thinking," by Jim Fusilli, in Ellery Queen's Mystery Magazine, November/December 2017.
Last week I wrote about a story that felt like it belonged in
Black Mask Magazine.
By coincidence I am now covering a story that appears in the
Black Mask
department of
Ellery Queen.
Go figure.
World War II has just started and the German owner of Delmenhorst Flooring has just died. The business is in Narrows Gate, a fictional town which strongly resembles Hoboken, NJ. The Farcolini family decide to take over the flooring business, replacing the German employees with "locals, mostly Sicilians and Italians who couldn't spell linoleum on a bet but had a genius for theft."
It's a cliche, I suppose, that gangsters take a successful business and turn it crooked, even though it was making good money on the up and up, because they can't imagine
not
doing it crooked. See the fable of the scorpion and the frog.
But in this case there is a low-level mobster who discovers he
likes
laying linoleum, and he's good at it. Can he find a way to keep the crooks from ruining a good thing?
Fusilli captures the tough guy tone perfectly, in a fun tale.