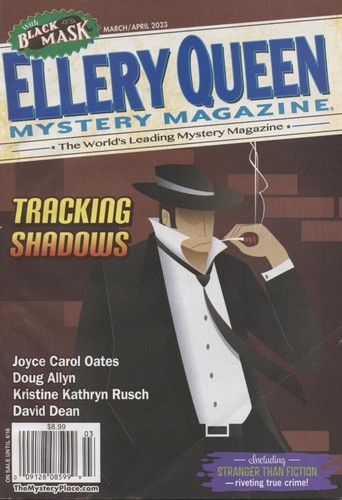 "Drinking in the Afternoon," by Kristine Kathryn Rusch, in Ellery Queen's Mystery Magazine, March/April 2023.
This is the eighth appearance on this blog by Rusch.
Here is a proposition I would hate to have to defend: Maybe writing a compelling low-key story requires more skill than writing a fast-paced action tale. I think bullets and mayhem may tend to keep me turning pages more than subtle psychological stuff.
On the other hand, come back next week and I may disagree with myself.
This is a low-key but compelling story that caught my attention immediately and never let go. Here is how it starts:
When it was all over, he didn't count how many friends he had lost. He just walked out of the hospital into the thin sunlight on that hot August afternoon, tossed his uniform in the nearest bin, and did not look back. He left his car in the employee parking lot.
Good writing? Oh yes. And so many questions we want answers to. When what was all over? Did his friends die or simply cease to be his friends? What type of job did he have that required a uniform? And why would he abandon his job, his car, and presumably the life he has been living?
On the side of avoiding spoilers I will fail to answer these questions but I will say that Quinn (like everything else going forward, his name is brand new and almost randomly chosen) is not a criminal and is not on the run from anything except bad memories.
He winds up in the southwest, a thousand miles from his past, and starts to build a new life, totally different from the one he left. Then there is the possibility of a crime, and a puzzle that needs solving. And oddly enough, the solution may connect to the choice he made...