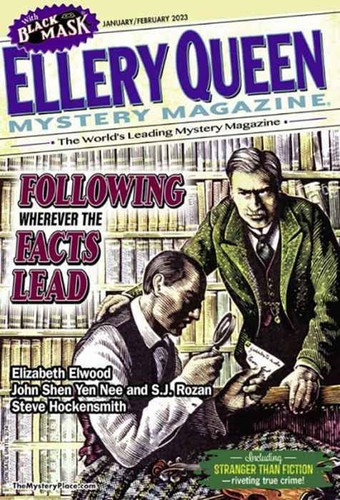 "The Soiled Dove of Shallow Hollow," by Sean McCluskey, in Ellery Queen's Mystery Magazine, January/February 2023.
It is rare that a first story makes my best-of-the-week list, rarer still when that first story is a long, possibly novelette-length piece. This is one.
And it's a private eye story, of sorts. What's a private eye story? If you say a story about a private eye you are clearly unaware of what I call the Scudder exception.
When the Private Eye Writers of America were creating the rules for their Shamus Awards one of the very best characters in the field was Lawrence Block's Matt Scudder. For most of his career he had no P.I. licence. So it is not surprising that the rules said, essentially, that a P.I. story had to be about someone who investigates crimes for pay, but doesn't work for the government.
So a lawyer or journalist would qualify but not a cop or a spy. And people like Scudder who, as he put it, did favors for friends who then bought him gifts, was eligible.
Which brings us to Shane Caine, the narrator of our tale. One night in a bar in Georgia he brags about some crimes he solved, not a P.I., but as a person who "just sort of stumble[d] into things."
A man named McDounagh overhears him and is desperate for his help. He lost his wallet to a couple of con artists in a badger game. The wallet contains a top-security I.D. card and if he doesn't get it back by 8 A.M. he will lose his job.
Caine immediately recognizes that the badger game was not the usual variety. Something odd is going on, something beyond a casual theft. What follows is a long but fast investigation that ends in a trail of blood.
I enjoyed the adventure and hope Shane Caine stumbles into some more of them.