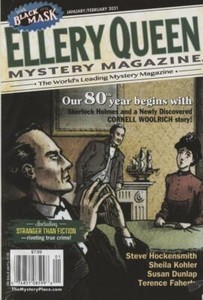 "Boo Radley College Prep," by Karen Harrington, in Ellery Queen's Mystery Magazine, January/February 2021.
As I have said before, sometimes I read the first page of a story and find myself silently telling the author: You got something good here. Don't screw it up. Harrington, it turns out, is not a screw-up.
Which is more than we can say about Tony Reyes. He is fifteen years old, short on luck and, he will tell you, short on brains. A hurricane has forced him and his mother to move in with the brother of his deceased father, and it isn't a happy or healthy home.
Right down the block, however, is what his uncle calls "the Boo Radley house," a spooky looking joint whose owner never seems to appear in public. Curiosity - and the hopes of earning chore money - causes Tony to visit.
And there he meets a grouchy old man with a lot of brains and a good reason to hide from the public.
Two desperate souls in situations that are only getting worse. Can they help each other somehow?
Hell of a story.