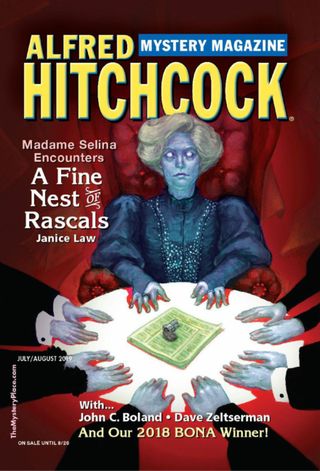 "The Three Camillas," by William Burton McCormick, Alfred Hitchcock's Mystery Magazine, July/August 2019.
This is the
third appearance
here by McCormick and the second for Quintus the Clever. But our hero, if that's the right word, takes a while to arrive.
The story is set during the rule of Caligula the mad in the Roman empire. The narrator is Camilla Tertia, which is to say, the third Camilla. ("Siblings with identical names, especially amongst girls, were common in conservative and affluent families...")
Tertia is twelve and, she reports proudly, "already considered far and wide the scoundrel and gossip of the family." Reports have not been exaggerated.
Her sister Secunda is about to make an unhappy marriage. Tertia decides it can be prevented if her expensive engagement ring is lost - a bad omen! And who better to make it disappear than the luckless thief she meets after he is caught and whipped?
Quintus is clever enough to want nothing to do with her - what's Latin for hellcat? - but she doesn't give him much choice. The best part of the story is their conversations.
"Be an honest man, Quintus, and rob my sister!"