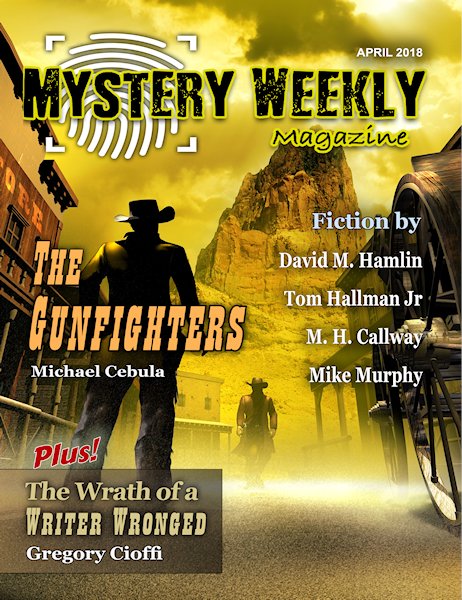 "Kindness," by Tom Hallman, Jr., in Mystery Weekly Magazine, April 2018.
I like surprises. Not in real life, I hasten to add, so put down that seltzer bottle. But surprises in fiction are definitely a good thing.
The main reason that this story made my page this week is that twice I thought
Well, I see where this is headed,
and both times I was wrong. That's nice.
Phil's family moved to an inner city neighborhood that is gentrifying. Great house, nice neighbors. But then the old man across the street dies and his house is inherited by a jerk who parties all night The jerk is a huge guy who "reminded me of one of those men featured on cable shows taking viewers inside America's roughtest prisons."
When this guy takes an unhealthy interest in Phil's teenage daughter things seem really desperate. But then Phil meets Deke, a motorcyclist and a proud one-percenter. This does not refer to the one-percent who own so much of our country; it's an older term referring to the supposed one percent of motorcyclists who are criminals.
Phil helps Deke with a problem. Will Deke help Phil with his? Or, hint hint, will something different happen?
By the way, not all surprises are created equal. If a meteor struck the bad guy, that would be surprising but not satisfying. But the twists in this tale are nicely foreshadowed. There is a flaw in the plot (let's just say it's better to be lucky than to plan well), but it didn't stop my enjoying the story.
Another complaint, which you've heard me make before. There are not a lot of characters in this story, so why do three of them need to be named Amy, Allison, and Anderson?