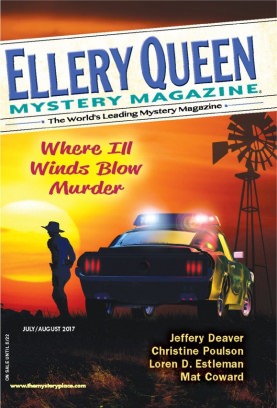 "What Could Possibly Go Boing?", by Mat Coward, in Ellery Queen's Mystery Magazine, July/August 2017.
Nutty Mat Coward is making his
third appearance
in this space. This time his characters are the staff of Fake Dog Dirt Etc., a rather low-end novelty shop. Their crisis is that one of them has killed their boss. Murder? Well, that's debatable. I can't find the quote I am looking for but I believe one of the characters says, approximately, "The first few blows could be self-defense, but the next half dozen were purely recreational."
The ringleader is June who proudly says that her siblings call her "the coldest June on record." She and her co-workers decide that they can keep the store open for a while, bringing in a few precious weeks' wages. All they have to do is find a place to hide the body. And find the boss's hidden money. And avoid the cops. And oh yes, the blackmailer.
It all gets rather complicated. And hilarious.